Conference Rooms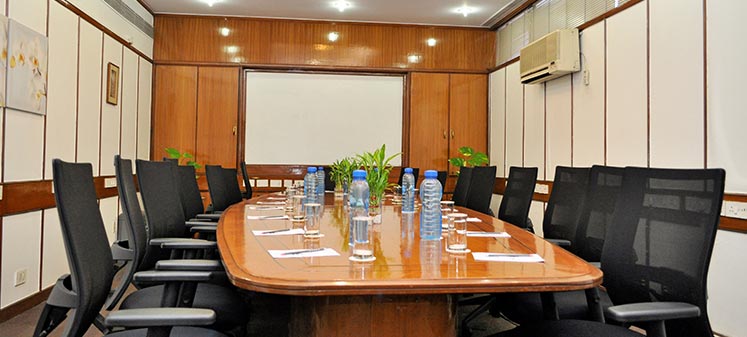 Paharpur Business Centre, centrally located in Delhi and supported by a dedicated client servicing team, is an ideal location for holding conferences of big and small groups.
We offer state-of-the-art facilities including video and teleconferencing, large screen multi system television, sound system, overhead projector and screen, white board, panafox board, cordless microphones, voice and video recorders.
We have a dedicated F&B services team which will ensure that you get the best quality food within the building. We also have an in-house travel agency to take care of your boarding and lodging needs. We want you to focus all your energies on the event and leave the rest to us.
All these support services make us a one stop shop for all your conference needs.
The exceptional Indoor Air Quality at PBC ensures higher efficiency of your team members and hence making them more productive during these events. Click here to read more about the effects of IAQ on human productivity.
We can customize the conference rooms to meet your needs with seating arrangements ranging from classroom, boardroom, theatre and U-shape facilitating a wide range of events. The layouts can accommodate events of various sizes (2 to 100) conferees.
Features
Central and well connected location which is ideal to conducting meetings of all sizes
Facilities like video and teleconferencing, projector and television are available
Flexible packages
We have a wide range of conference rooms based on your specific needs and requirements
Dedicated telephone number
Mountain-fresh air with excellent indoor air quality
Ample parking space
100% power back up
Other support facilities like telephone, security service, internet facility, dedicated parking, housekeeping, reception
Food and beverage
In-house travel agency for your boarding and lodging needs